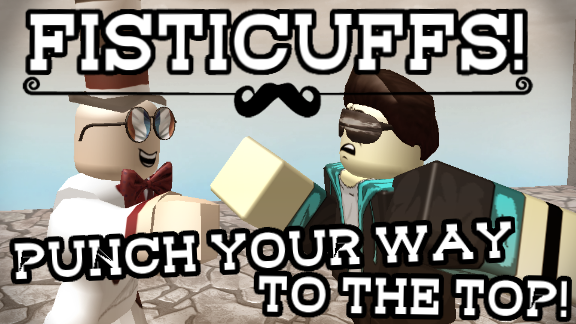 Fisticuffs! is a player-vs-player brawler game in which players punch each other off the stage using a variety of punch types and attacks. While playing on random stages, players may decorate their punches with particle effects and special hit sounds. There are power-ups scattered around the map and the game features a leaderboard and a shop. Here's a clip of me showing off the features of the game with some bots:
Fisticuffs! was featured on several popular YouTube channels, including FGTeeV, EthanGamerTV, and The Pals. It was featured by Roblox itself in the form of a review and on The Next Level, Roblox's old Twitch show. You can watch a playlist of Fisticuffs! gameplay here (note: these videos were made on older versions of the game):
Oh dear, the embed seems to be broken. Watch the playlist on YouTube instead.
I developed Fisticuffs! as a side project during my internship at Roblox Corporation in Fall of 2015 while living in San Mateo, CA. I worked on the game in conjunction with my main accelerator project, Mirror Muse. On the release of Roblox for Xbox One in February 2016, Fisticuffs! was the youngest game to be featured out of 15 games from the Roblox platform. On June 30th, 2017, the game received a major overhaul that provided support to PC, tablet, phone and console versions of Roblox.
I post updates to Fisticuffs! on the game's official Twitter page and patch notes can be found on the game's Medium page.